During my last electronics project, I have made extensive use of the power supply my dad built for me when I was younger. And although I'm emotionally attached to this piece of anchient electronics, it was time to admit it needed replacement. 
The old power supply I was using had an analog voltage and current meter with the accuracy of a hail bullet. And a minor touch of the pot meters could spike the voltage with a few volts extra. As a kid, this wasn't really an issue, when playing with small lights and motors. But, my Arduino's don't seem to love the unexpected extra electrons.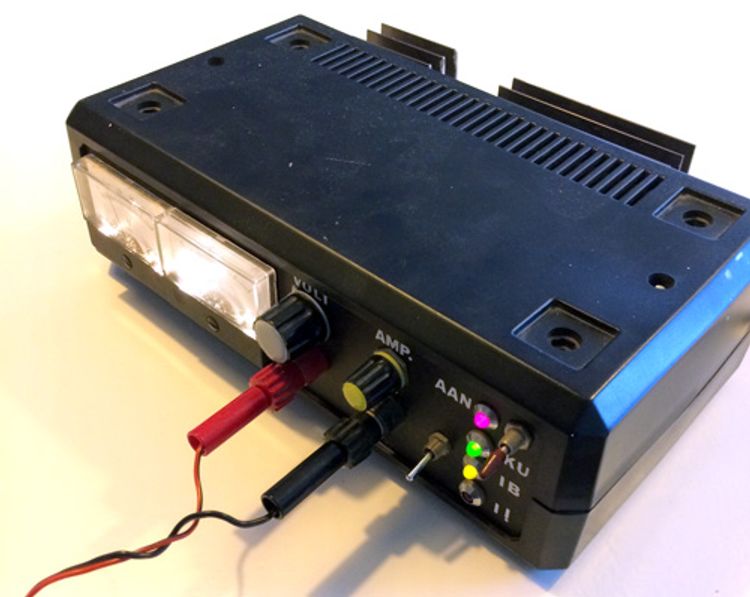 My whishlist
Using Christmas as a lame excuse to buy a new one, I did some searching online to find the best programmable power supply out there within the range of my budget. In addition to the financial requirements, there were some other items on my wish list:
Digital Voltage and Current meters.
Two separate outputs.
0-30V (or more)
0-3A (preferably 5A)
Presets buttons
Nice form factor
Using Reddit as my I'm-to-lazy-to-search-meself-solution. I was soon pointed towards the Rigol DP832 Programmable Power Supply. This space-ship lookalike offered me most of my wishes:
It has a 3.5" FTF Display. (= Digital Voltage and Current meters.)
2 x 30V, 3A outputs (= 1 x 60V, 3A or 1 x 30V, 6A)
1 x 5V, 3A output
Presets, but more important: a quick way to enter the desired voltage.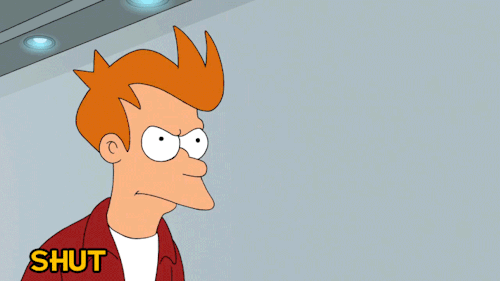 The "Nice form factor" is debatable, but I must admit: I love buttons, and having my own space ship control unit on my desk just looks awesome. If this doens't turn on the girls, I don't know what does …
Order now!
Some extra Google'ing taught me that Batronix was able to deliver this baby to my adres in the Netherlands. For a more than fair price: € 304,- (Excluding VAT). And so, a few days later, the mailman brought me a heavy but welcome package: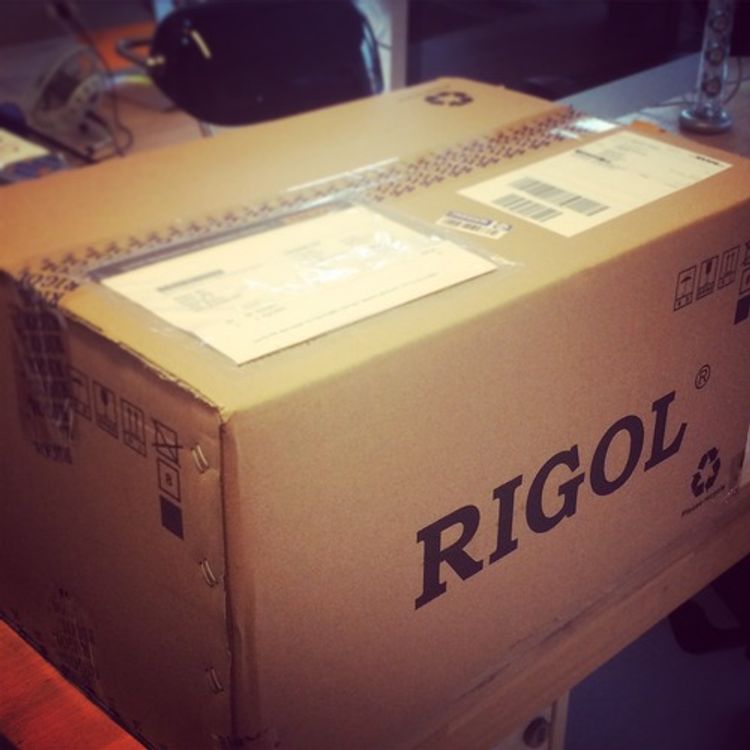 After the unpack party (for which I was unable to make my girlfriend just as excited as I was), I soon gave this beast some heavy duty testing material. I went for a spin. I demanded the brute force. I unleashed the fury. I let it balance on the edge of madness … I connected a LED!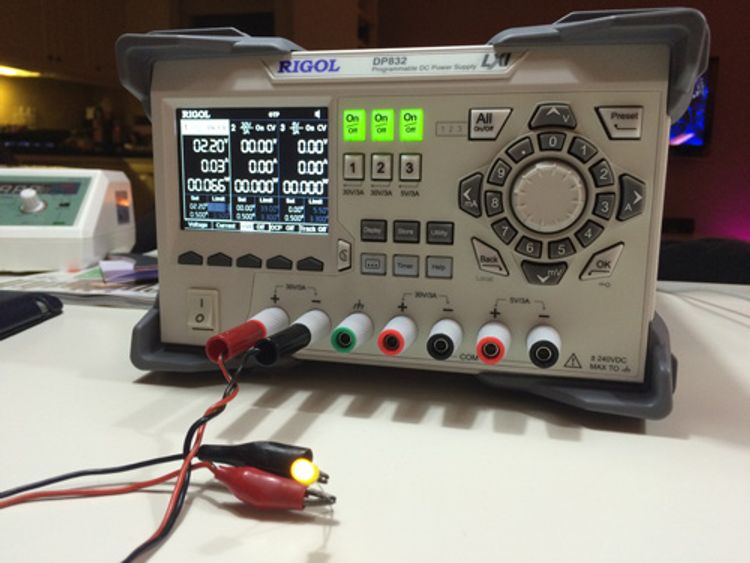 And yes, it worked! A steady 2.2 volt powered my yellow led, and shined some brightness into my dark soul. The 0.03 amps gave me enough power to let a smile appear on my face, ear to ear. This beauty would make my future projects even more awesome. 
But wait, we've got more!
The basic DP832 device has everything I wanted. But if that isn't enough, you're able to unlock some additional features after paying some extra bucks:
The high resolution V, A & W meters, enabling 3 digit accuracy.
Optional detect and analyze module for the DP832 device.
Optional 4 digital channels for trigger in & out
Optional RS-232 and LAN interface module for the DP832 device.
The high resolution really is a beauty. It allows you to measure and control by 1 mV or 1 mA.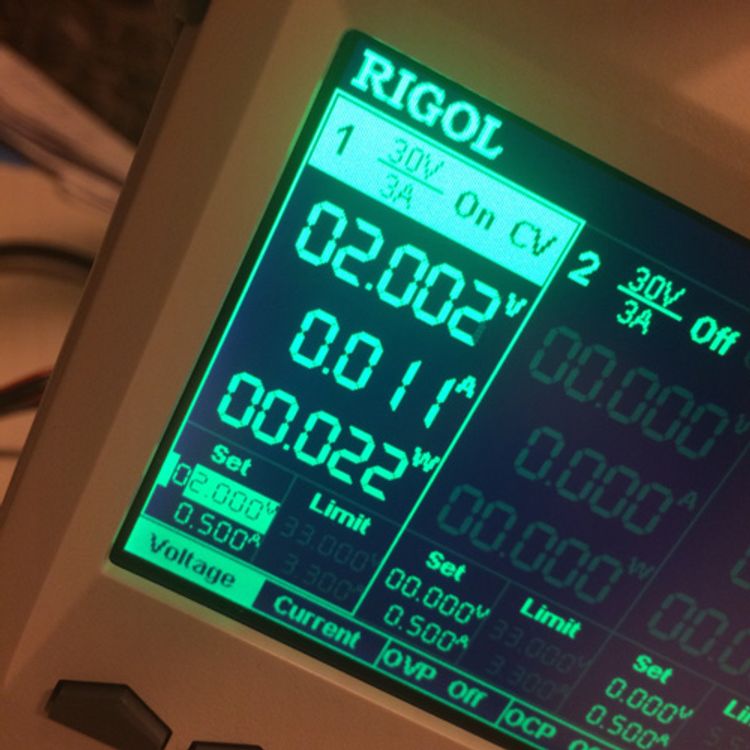 Additionally, I might enable the LAN interface. If I'm able to figure out the API they use, I should be able to built an iPad app to control it. If anyone is interested in this idea, let me know, so I can move it up on my project to do list.
Any bad news?
Well, just one minor thing: The DP832 appears to have a power on voltage spike. This means that If you power on the Rigol, it gives a 2 volt spike. Not enough to demolish my Arduino, but it might be enough to kill some more fragile components. As far as I understand, Rigol knows about this issue, and will fix it in a future hardware revision. 
Cool stuff, can I see more?
If you want to know more about this beauty, make sure to check out the following video by EEVblog:
So, now you know about my new love. We're still working on getting to know each other better. But as they say, the journey is more important then the destination. Or as I like to say: I've got the power!